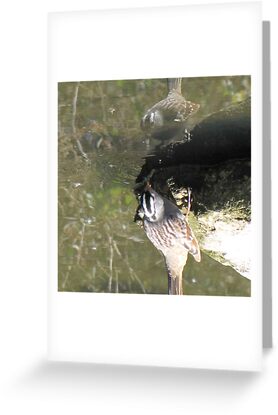 I was playing at Sweetwater Wetlands and focused on the reflection instead of the sparrow himself. So I flipped the image. Thought it was fun and wanted to share~☺
Tucson, Arizona
Canon Powershot sx10is
White-crowned Sparrow
This hardy sparrow is found in many habitats, from muskeg and recent burns in boreal forests to coastal sage scrub in California; migrants and wintering birds are found in brushy habitats.
Scratches feet along the ground, foraging for insects, caterpillars, and seeds. Also gleans food from vegetation.
VOICE Song is usually a series of scratchy whistled notes, one higher, one lower. Call a flat, low pink or chink , sharper and more ringing than Golden-crowned.