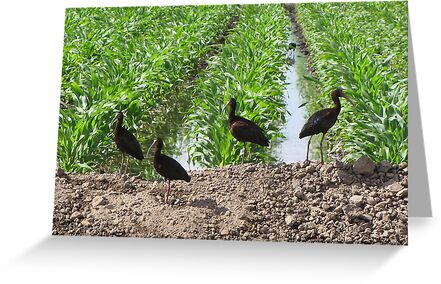 Marana, AZ
Canon Powershot sx10is
White-faced Ibis
In the American West, White-faced Ibis is most often associated with flooded fields and freshwater marshes and ponds. It is slightly larger heavier than Glossy Ibis; breeding adults are distinguished mainly by their white facial feathering, striking red eyes (also on non-breeding adults) and rosy loral skin. Most adults also show reddish legs, especially at the "knees". Juveniles are indistinguishable from juveinle Glossy Ibises. Both dark Ibises have expanded there ranges in recent decades.
VOICE (Very similar to Glossy)
White-faced ibises are declining throughout North America, where continuing threats include draining of wetlands and the widespread use of pesticides.
It is thought that the largest white-faced ibis nesting colony in the world can be found in the marshes around the Great Salt Lake in Utah.
A group of ibises has many collective nouns, including a "congregation", "stand", and "wedge" of ibises.