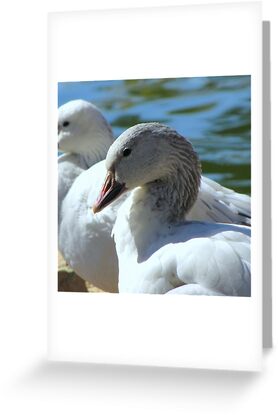 Gene C. Reid Park ~ Lake/Pond Area
Tucson, AZ
Canon Powershot sx10is
Snow Goose
Very common and increasing over its range, Snow Goose breeds in far-northern Arctic tundra south to Hudson Bay. It winters in farm fields and marshes of the southern U.S.
in flocks of many thousands that often include smaller numbers of Ross's Geese.
There are two subspecies: Greater (atlanticus), seen in the coastal mid-Atlantic states in winter; and the very widespread (nominate, including the common dark morph, "Blue Goose"), which is closer in size to Ross's but still larger. Dark morph Greater Snow Geese are rare.
VOICE A contented rauw_, given when feeding; a higher-pitched, often doubled honk-_eenkk!- when agitated or in flight.
INTERESTING FACTS
A group of geese has many collective nouns, including a "blizzard", "chevron", "knot", "plump", and "string" of geese.
During migration the Snow Goose flies so high it can
barely be seen. They form shifting curved lines and arcs as they fly.
During the summer their heads' are often stained red
as a result of gathering food in mud containing iron oxides.
Hunters call these birds "Wavies." The name in
derived from the Chippewa name for this bird, wewe.