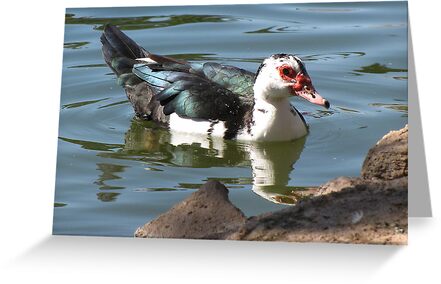 Gene C. Reid Park ~ Lake/Pond Area
Tucson, AZ
Canon Powershot sx10is
Muscovy Duck
This large Neotropical species is a rare permanent resident in southern Texas, most often seen near Falcon Dam (on the Rio Grande). It nests in tree cavities and nest boxes over bodies of fresh water.
Domestic varieties are widespread, and small population of feral birds, which are partly or mostly white, occur in many states. Muscovy ducks eat plant matter, fish, termites and many aquatic invertebrates. Its flight is ponderous and steady, like that of a large goose.
This species, like the Mallard, does not form stable pairs. They will mate in the water or on land. Domesticated Muscovy Ducks can breed up to three times each year. Male Muscovy Ducks have spiraled penises which can become erect to 20 cm in one third of a second. Females have cloacas that spiral in the opposite direction to try and limit forced copulation by males
VOICE Not often heard; quiet quacks and grunts.
INTERESTING FACTS
A group of ducks has many collective nouns, including "a brace of ducks", "flush of ducks", "paddling of ducks", "raft of ducks", and a "team of ducks."
The domesticated Muscovy is the only domestic duck not bred from mallard stock.
The Muscovy Duck doesn't swim as often as other ducks due to their underdeveloped oil glands.
They are also called the Common Duck, Forest Duck, and Greater Wood Duck.