Raptor Free Flight Demonstration
at
Arizona-Sonoran Desert Museum
Tucson, Arizona
Canon Powershot sx10is
Ferruginous Hawk
The largest N. American buteo, they have an almost aquiline presence; large0billed and heavy headed, wide-bodied and full-winged, it might be mistaken for an eagle, especially in the rarer dark morph.
This species if restricted to dry open habitats,
especially deserts and grasslands, where it hunts small mammals from the air or on a low perch. More than most buteos, ferruginous Hawks spend a lot of time on the ground.
This species is distinctive in all plumages, showing very white remiges (with dusky tips)and a pale rectrices from below.
VOICE a very high, thin, piping wheeee-errrrr, descending, with a somewhat plaintive quality.
INTERESTING FACTS
A group of hawks has many collective nouns, including a "boil", "knot", "spiraling", "stream", and "tower" of hawks.
Before the elimination of bison in the West, their nests were often partially constructed of bison bones and wool.
The common name of the Ferruginous Hawk means "rusty color" and refers to the coloration of the bird's wing and legging feathers.
They nest in trees and on the ground. For some unknown reason, tree nests tend to have a greater number of eggs per clutch than ground nests.
2-14-11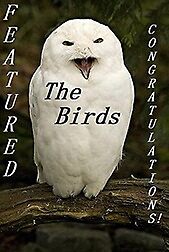 2-21-11