Drying off his plumage as he is surrounded by red-head ducks, coots & like……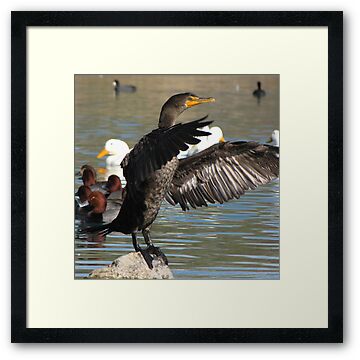 Kennedy Lake
Tucson, Arizona
Canon Powershot sx10is
Double-crested Cormorant
By far the most widespread cormorant in North America, they nest in in colonies along ocean coasts and lake shores in many areas, and winters along coasts and in lowland areas of the Southeast, Southwest and Rio Grande valley.
Populations have dramatically increased since the banning of DDT in 1972, leading concerns that cormorants may start crowding out other colonial nesters.
VOICE Nesting bird gives low, guttural croaks and moans. Nestling makes piping sounds.
INTERESTING FACTS
A group of cormorants has many collective nouns, including a "flight", "gulp", "rookery", "sunning", and "swim" of cormorants.
Captive birds will perch to dry their wings after eating, even if they have not gotten wet.
Due to significant population increase and range expansion, the U.S. Fish and Wildlife Service published an Environmental Impact Statement on managing Double-crested Cormorant populations in 2003.
The oldest documented wild Double-crested Cormorant lived to be seventeen years, nine months. The average lifespan of wild birds is about six years.