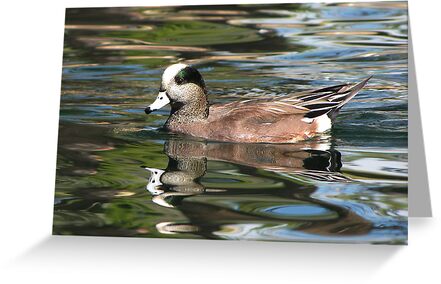 Gene C. Reid Park ~ Lake/Pond Area
Tucson, AZ
Canon Powershot sx10is
American Wigeon
The widespread American Wigeon nests near small lakes and marches in open and semi-open habitats.In winter they are found on freshwater lakes and brackish estuaries, and saltwater bays with aquatic vegetation.
Wigeons often feed around diving ducks and swans, stealing plants those species bring to the surface.
VOICE Male: a wheezy, piping, 2-3 syllab;e whistle. Female: a low growling grrrrr : also a quack.
INTERESTING FACTS
A group of ducks has many collective nouns,
including a "brace", "flush", "paddling", "raft", and "team" of ducks.
The American Wigeon was formerly known as "Baldpate" because the white stripe on their crown resembles a bald man's head.
Their diet has a higher proportion of plant matter than the diet of any other dabbling duck.
Their short bill enables them to exert more force at the bill tip than other dabbling ducks, thus permitting efficient dislodging and plucking of vegetation.