Globe, AZ
Canon Powershot SX10is
1-24-10
In larger view you will see that I have managed (luck of the shutter) to capture his tongue! If you read anything from this page, this information was about the coolest thing I have yet to come across!!
Interesting Fact from hiltonpond.org.
It is while grub-hunting that the incredible capabilities of the woodpecker tongue really come into play. Galleries formed in trees by wood-boring beetle larvae are often quite extensive. Located just beneath the outer layer of wood, these shallow tunnels can stretch up and down the trunk for several inches—even feet—depending on the insect species. When the woodpecker's bill breaches an insect gallery, it extends its tongue and probes around. If it locates grubs, the woodpecker skewers the prey with its tongue, the tip of which is hard and sharply pointed. After the tip penetrates the soft body of a larval insect, tiny rear-facing barbs grab hold as the woodpecker withdraws its tongue with the succulent food item impaled thereon
---
Acorn Woodpecker
Acorn Woodpecker is named for its habit of storing acorns by drilling holes in trees, buildings, or telephone poles to use as granaries. It also often flycatches from trees like Red-headed Woodpeckers.
This species inhabits oak and mixed forest, often in foothills or mountains, living in groups of up to 16 birds (at least one breeding pair plus earlier offspring). Birds may wander from their territories during years of low acorn production.
VOICE A strident, nasal WECK-ah, repeated; also a nasal, trilling fuss.
INTERESTING FACTS
A group of acorn woodpeckers are collectively known as a "bushel" of woodpeckers.
Acorns seem to be emergency provisions; on mild winter days these birds catch flying insects.
Breeding groups may contain as many as 7 male breeders and 3 females. All breeding males can mate with any and all of the female breeders of the group.
The Acorn Woodpecker stores nuts in individually drilled holes in trees called granaries. The acorns are jammed in so tight that even squirrels can't pry them out. Some of these granary trees have up to 50,000 holes drilled by extended woodpecker families.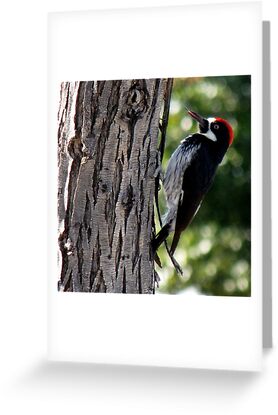 1-25-11