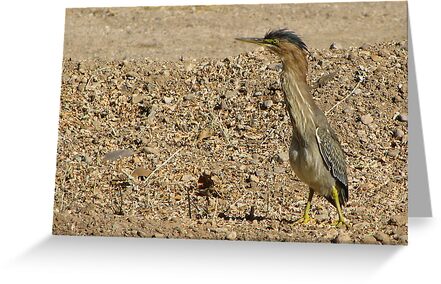 Sweetwater Wetlands
Tucson, Arizona
Canon Powershot SX10IS
Kimberly P-Chadwick's Fan Page
Green Heron
This small heron of wooded swamps, streams and ponds is rarely found among flocks of other herons. I prefers to forage in secluded locations, stalking small fish, tadpoles and amphibians from a perch just above the water's surface.
A cryptic bird, Green Heron is usually detected by it's alarm call, given when flushed. The species is strongly migratory and may turn up almost anywhere.
VOICE Agitated bird often gives a soft clucking sound; flight/alarm call familiar: a piercing skiew! or skow!
INTERESTING FACTS
The Green Heron is one of the few tool-using birds. It commonly drops bait onto the surface of the water and grabs the small fish that are attracted.
They tend to wander after the breeding season is over. Most probably seek more favorable foraging areas and do not travel far. Occasionally some turn up in England and France.
The Green Heron is part of a complex of small herons that sometimes are considered one species. When lumped, they are called Green-backed Heron. When split, they are the Green Heron, the Striated Heron, and the Galapagos Heron.
A group of herons has many collective nouns, including a "battery", "hedge", "pose", "rookery", and "scattering" of herons."