A Special Thanks to Jim Johnson for your help in Identifying this guy!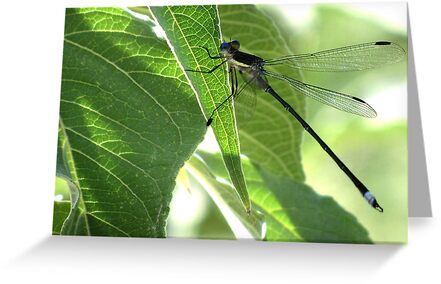 Tucson, Arizona
Canon Powershot SX10IS
Kimberly P-Chadwick's Fan Page
Great Spreadwing
The largest damselfly in the U.S., Great Spreadwing is found across the country, absent only from the northern most states. Like most members of its genus, it is more likely to be found along streams than at ponds.
Originally a southwestern species, during the twentieth century it spread to the northern eastern U.S. In the Southwest, it is often encountered in vegetation lining narrow, shady canyon streams but also occurs in more open habitats such as the vegetated edges of desert oases, willow thickets bordering the backwaters of larger rivers, and even Aquatic-plant nurseries.
Inhabiting a broad elevational range, it occurs from near sea level to over 6,000 feet.