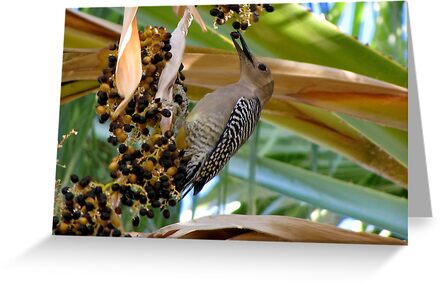 Arizona-Sonoran Desert Museum
Tucson, Arizona
Canon Powershot SX10IS
Gila Woodpecker
Gila woodpecker excavates nest cavities in large saguaro cacti of the Sonoran and Mojave Deserts. It also thrives in suburbs with large saguaros and few houses, Pairs defend and reuse their nest cavities from year to year; abandoned cavities become homes for Elf Owls and other desert birds.
Perches vertically, clinging to poles, cactus's, and trees, bracing itself with stiff tail feathers. Eats insects, fruits and berries. Like most woodpeckers, Gila's are omnivores, sometimes eating small lizards and taking small bird eggs.
Males have a narrow red crown patch where females are unmarked
VOICE a rolling quirrr, similar to a Red-bellied Woodpecker; repeated wik notes; and repeated nasal, tinny deet or deetle
California Fan Palm
Occur naturally in desert oases in isolated areas of the Sonoran and Mojave deserts of southeastern California, southwestern Arizona, and northern Baja California, Mexico, at elevations between 500 and 1,000 feet. Widely cultivated as an ornamental in Southern California.
The California Fan Palm does not produce dates, but does fruit elliptical black "berries" about 1/2 inch in diameter. These berries have a very large, brown seed surrounded by a thin, sweet pulp, which native Americans ate fresh or dried. They also ground the seeds into flour. Hooded orioles and coyotes feast on the seeds as well, aiding the palms' proliferation.
11-31-10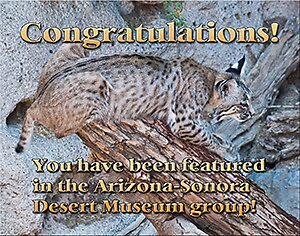 12-02-10