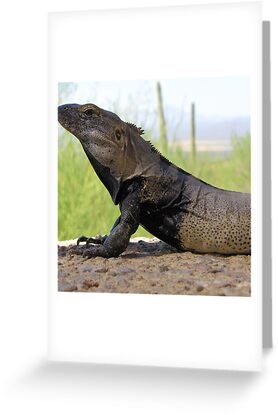 Arizona-Sonoran Desert Museum
Tucson, Arizona
Canon Powershot SX10IS
Kimberly P-Chadwick's Natural Photography Fan Page
Sonoran Spiny-tailed Iguana (He is a fave of mine..lol)
A non-native, very large ash gray to gray-brown lizard with black mottling and a long spiny tail. Dark bars cross the back and the posterior half of the tail is banded. A row of enlarged mid-dorsal scales forms a low crest on the neck and a ridge down the back. Juveniles are bright green.
Introduced to the grounds of the Arizona-Sonoran Desert Museum
near Tucson in the 1970's. It is still reproducing there, but apparently is no expanding its range, and only occasionally observed off the museum grounds.
Diurnal. Frequently seen basking on rock outcrops, boulders, cacti, and trees in its native Mexico. Has also been observed on walls and fences in areas of human habitation. When threatened it retreats into rock crevices or woodpecker holes and uses its spiny tail to block out predators. Juveniles are predominantly arboreal. Herbivorous, but occasionally eats invertabrates and has been documented eating rodents and Clark's Spiny Lizards at ASDM.
Lays eggs from spring through early summer.
---
Interesting story, I had two of these before I new what they were! I was Asst Mgr. at a box Pet Store and we got them in as Club-tailed Iguanas. Well I specialized in reptiles and new that they were not what they were listed as. I am not an expert I will say now, but what I did know, I know! Anyway, I took them home due to them being to aggressive to sell and hard to handle for the majority of customers. I was too anal in who I sold reps to due to the lack of knowledge people were willing to hold on to much less spend to provide an appropriate habitat. I learned as much as I could and when I found out about the program at the Arizona-Sonoran Desert Museum
I was thrilled to finally be able to put a name to these reptiles. Later I found a docent who spent much time at the ASDM and donated them to the Museum. I was very happy to know that they were going to a great new home, more appropriate for them. Now when I go I always wonder if I am looking at the pair that I said farewell too!