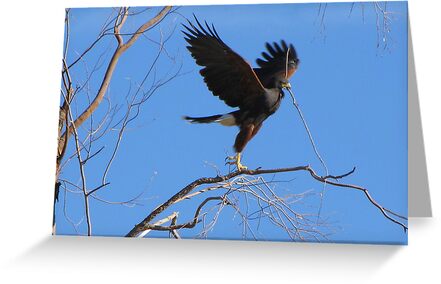 I watched this family of Harris's Hawk for about 30 minutes. This raptor jumped down to the branch, snapped it off and this image captures her as she flew away with it along side a family member. it was amazing to watch! Didn't know they broke off branches!
11-20-10
!A Vision Of Flight Photography!
11-16-10

Marana, Arizona
Canon Powershot SX10IS
Harris's Hawk
This unusual species of deserts,brushy savannah, and arid woodlands is closely related to buteos and Common Black-Hawk. Unlike other American raptors, they breed year round.
Often forming polyandrous groups (2 males,1 female). Known also to form communal groups of 4-5 members. The young from previous broods will take care of the nest as well as defend it when needed. Hunting collectively for larger rodents such as hares & gophers.
Once called the Bay-winged Hawk, it has distinctive chestnut, black and white feathers that make it a favorite among falconers.
VOICE A strange, grating, nasal
eeehhhhhhhh similar to a caracara
The Harris's Hawk nests in social units that vary from an adult pair to as many as seven
individuals, including both adults and immatures.
Cooperative hunting groups are more successful at capturing prey than individuals hunting alone. Groups of five are the most successful.
John James Audubon gave this bird its English name in honor of his ornithological companion, financial supporter, and friend Edward Harris.
A group of hawks has many collective nouns, including a "boil", "knot", "spiraling", "stream", and "tower" of hawks.