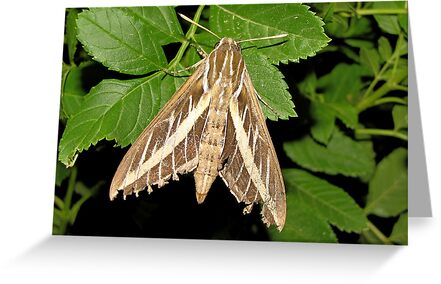 Marana, Arizona
Canon Powershot SX10IS
White-lined Spinx Moth
The caterpillar stage of the sphinx moth makes its presence known, sometimes overwhelming, while the adult is noticed less often because it is nocturnal. We notice the adult moth for its ability to hover near flowers while extending its elongate probiscus to drink from the nectaries. many people think they are watching hummingbirds until they look more closely. The moth feeds during the day, but also is active at night at night blooming flowers. Because of their large population, these moths are some of the most important pollinators in the Southwest.
After the summer rains begins, the yellowish-green caterpillar stage of the sphinx moth starts its massive march to new territory, searching for soil easy to burrow in. During this time, the two-to-three-inch-long caterpillar dominates the landscape, with possibility millions creeping along. they may eat a bit on plants, but mostly seek a pupation spot. Although the species has several generations during the year only the last batch stages a fall parade.
The Tohono O' odham used to take advantage of this windfall of animals, harvesting, prepping and drying them to provide a fantastic source of high-protein, low-fat, low cholesterol food for the winter.
~444k cal ~16.23g total fat ~20.45 carbs ~.8g fructose ~1.62g lactose
~54.07 total protein ~11.2g niacin ~1.6 riboflavin ~19.95g calcium
~1.094g iron ~15.65g magnesium ~1.17g zinc
…