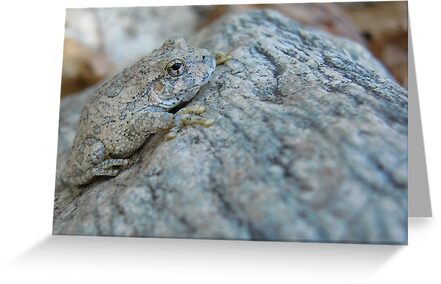 Mescal, Arizona
Canon Powershot SX10IS
Canyon Treefrog
A small frog with rough skin and large rounded toe pads. Gray, tan or olive with green or gray blotches. Can change color in response to environment. Often yellow on groin and inner thighs. Hind feet are webbed.
Found in Arizona upland desert-scrub through Petran Montane Conifer Forest. An excellant climber, it is usually observed on rocks, boulders or cliffs near creeks, springs or rivers. Sometimes found in rocky talus far from water.
Eats insects, spiders, centipedes and other invertebrates. Call is a series of low-pitched, metallic trills.
Breeds in Spring and Summer. lays eggs singly in streams and pools. Skin secretions will irritate nose and eyes.