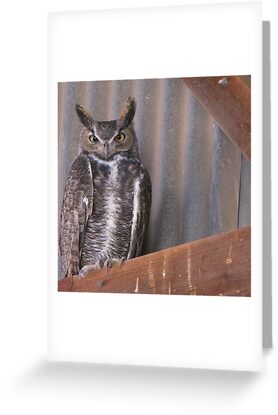 This past weekend Sherry Pundt started our winter rounds to near by hot spots. We covered the Wilcox area including, The Playa, Whitewater Draw and Kansas Settlement. A full day of safariing. This is one of the beauties we came across at the Whitewater Draw. Total serene feeling to stare up into her eyes and just be close to her. We respected her space as good photographers should, said our thank yous and left her be.
---
Elfrida, AZ
Canon Powershot SX10IS
Non-captive
Great Horned Owl
A large powerful owl, resident in all habitats from the tundra edges to deserts and in to tropical America, Great Horned fills the ecological niches occupied during the day by Red-tailed Hawk.
Emerging at dusk, it surveys an open area from a favorite perch for just about any prey including skunks and opossums, snakes and scorpions. Even other owls and birds as large as grouse and American Bittern!. It can take prey weighting up to 3x its own body weight!
In flight this owl recalls buteo hawk, but it has a more compact wing shape and robust body.
VOICE Familiar duet of paired adults consist of low hooting, accelerating at first, then closing with 2 longer hoos. Smaller males
INTERESTING FACTS
The Great Horned Owl will eat birds ranging in size from kinglets to Great Blue Herons and regularly eat other owls.
The reintroduction of Peregrine Falcons has been hampered in some areas by owls killing both adult and nestling falcons.
In frigid areas, where larger prey cannot be eaten quickly, they may let uneaten food freeze and then thaw it out later using their own body heat.
A group of owls has many collective nouns, including a "bazaar", "glaring", "parliament", "stooping", and "wisdom" of owls.