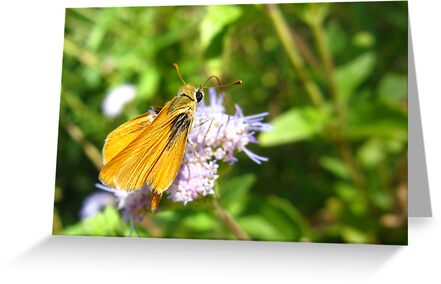 Tucson, Arizona
Canon Powershot A720
Orange Skipperling
When a hiker is passing between boulders up a deserted canyon and a little speck of an orange butterfly perches on a rock, it is most likely this tiniest of regularly occuring skippers in the Southwest.
It is one of the several mostly orange species called branded skippers that perch with hind wings opened nearly flat and fore wings mostly together. This odd position is often called tha "jet plane" position. It may be a means of regulating body temperature.
Orange skipperlings enjoy hot, dry canyons but are also occasionally found in city gardens and flower patches in the foothills. Their tiny size, coupled eith a very rapid flight, make this species difficult to see and easy to overlook.