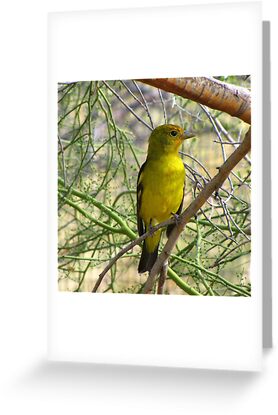 10-18-10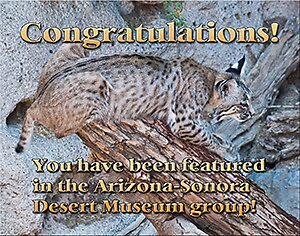 Taken at the Arizona-Sonoran Desert Museum
Aviary using a Powershot SX10IS
Western Tanager breeds in coniferous and mixed woodlands, especially with pines, spruces, firs aspens and oaks often at high elevations. It is found in a great variety of habitats in migration, from desert scrubs to backyard feeders.
In winter this species turns up rarely but regular at feeders in the Southeast.
INTERESTING FACTS
The Western Tanager breeds farther north than any other member of its mostly tropical family, breeding to nearly 60° N in the Northwest Territories.
The red pigment in the face is not produced by the bird but is acquired through their diet of insects that themselves acquire it from plants.
This species was first recorded on the Lewis and Clark expedition(1803-1806).
A group of tanagers are collectively known as a "season" of tanagers.
VOICE SONG a 5-phrased set of burry whistles very similiar to Scarlet Tanager. CALL a rattling prttle-ik, less incisive than Summer Tanager.