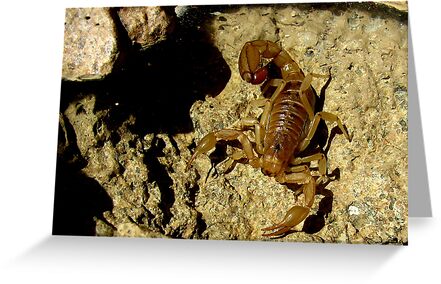 Taken in Tucson, AZ using a Canon Powershot SX110IS
Info from Arizona-Sonoran Desert Museum
The stripe tailed scorpion is Arizona's most common species of scorpion. This species occurs in a variety of habitats from near sea level to 7000 feet (2100 m) in Texas, New Mexico, Arizona, southern California, Sonora, and northeastern Baja California del Norte. These sturdy, medium-sized scorpions are usually under rocks during the day. Like all scorpions, they are nocturnal and venture from their shelters at night to forage for prey. A stout tail with darkly-marked ridges running lengthwise along the underside and a total body length of about 2 inches (5 cm) identify this most common desert ground dweller.
While scorpions are well equipped for survival, they are not without their natural enemies. Scorpions not only feed upon each other but are prey to other animals as well. Elf Owls have been photographed bringing scorpions with their telsons removed to their young. Lizards and small fossorial snakes in the genera Chilomeniscus, Chionactis, and Sonora also find them suitable food. Grasshopper mice and desert shrews are known to feed on scorpions, as are pallid bats.
Scorpions give birth to live young through the summer months, frequently having retained sperm from mating the previous year before going into hibernation. Scorpions are not fully developed when they are born, and will continue to develop until the first molt of their exoskeleton in 7 to 21 days, depending on the species. As the babies are born, they quickly crawl up their mother's pincers and legs to take a position on her back, where they will safely ride until they molt. Should they fall off, they can become prey—not only for a variety of arthropod predators, but also even for their mother.
One of the most fascinating things about scorpions is that they fluoresce under ultraviolet light, probably due to the complex substance in the epidermis that makes it impermeable. To truly appreciate the lives of scorpions, take a black light out to the desert on a warm, moonless night. You'll be amazed at how common scorpions are in the undisturbed Arizona Upland habitat. You can also use this technique to observe these ancient nocturnal arachnids as they detect and capture prey, court and mate, and dig burrows. These behaviors are never seen when scorpions are encountered by turning over rocks and other materials where they spend the daylight hours. Not only can you find scorpions in nature using ultraviolet light, you can use this same technique to look for scorpions in and around your home.