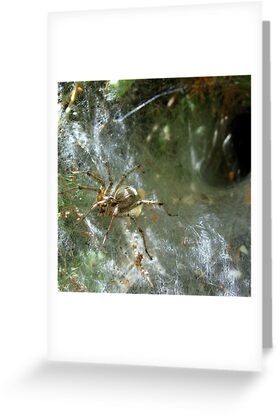 Taken in Tucson AZ using a Canon Powershot SX110IS
Several species of Funnel-Web Spiders (Family Agelenidae) are found here in the Sonoran Desert, and their distinctive, funnel-shaped webs are a common sight in areas with grass, leaf litter, and other plant debris.
Funnel-Web Spiders build broad, funnel-shaped, generally non-sticky, horizontal sheet webs just above the ground. The Funnel-Web Spider hides inside the mouth of the funnel and waits for an unsuspecting insect to blunder across the web. When it senses the vibration of an insect walking across its web, a Funnel-Web Spider will race out of its hole and bite the insect, injecting it with venom. Immobilized by the spider's bite, the insect is then dragged back into the spider's lair, where it will be eaten.
The Funnel-Web Spiders found in Arizona are harmless to humans and very shy.