Taken in Tucson,Arizona using a Canon Powershot SX110IS
Thanks to Jim Johnson for your help with the identity!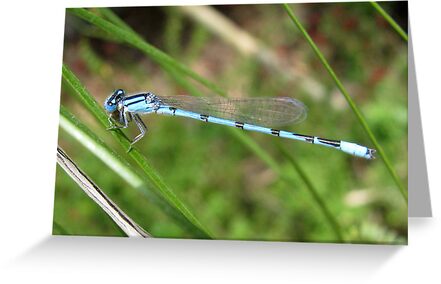 The bluets are our most frequently seen damselflies, especially Familiar Bluets, one of the largest Southwest bluets. Dozens to thousands can be seen at lake edges, where they hang onto swaying grasses like tiny flags. because of its narrow, black abdominal rings, Familiar Bluet appears very bright blue, even at a distance. Other species such as Arroyo, Tule and the very small Double-striped Bluet have black rings that are wider, or elongated forward as tiny arrows – making them appear darker from above. Additionally, the male Familiar's large upper terminal abdominal appendages appear fan-like rather than as narrow hooks or spines, and these may be seen in binoculars.