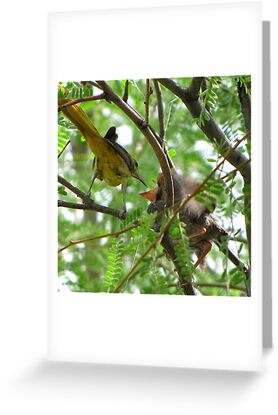 Taken in Tucson,Arizona using a Canon Powershot SX10IS
Walking through Arizona-Sonoran Desert Museum
there was a docent who was staring up into a tree. I of course stopped to see what was going on and started talking with the gal. After talking to her it seems that this little bird was blown out of his nest the night before. Though the nest was nowhere that we could see. She asked if I knew what it was and described the Mom for me. I told her what I thought it was then Mom came in. I was a female Hooded Oriole. She was still caring for her baby. Albiet nervous about him not being where he was suppose to be, she still flew up to the plate….lol
I asked the docent what would come to the baby and she said that they let nature take its course. If the baby was to fall out of the tree and into a place where they could get to him safety then they would take it from there, but as long as it seemed to be taken care of, they will just stay back and watch.
---
Hooded Oriole inhabits generally arid environments it is most numerous on wooded in riparian areas or desert oases with palm trees, which it favors for nesting,
It feeds on insects and , like other orioles, is readily attracted to backyards with offerings of fruit or of nectar at hummingbird and oriole feeders.
VOICE Song a contorted, catbirdlike set of mews, quick whistles and harsh calls. Call a weak, rising week