SOLD 1 Postcard! Thank you for your support!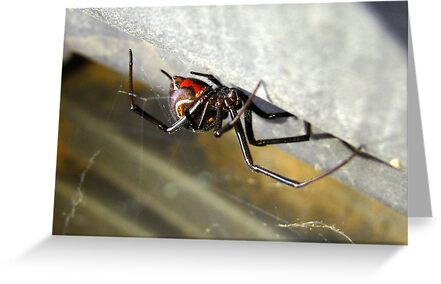 Taken in my backyard Marana,AZ, found by my hubby using a Canon Powershot SX110IS. After trying to explain why there was a "sane" reason why I should get my face that close to it…lol, and this man wants to marry me?
Latrodectus hesperus, the Western black widow spider or Western widow, is a highly venomous spider species found in western regions of the United States of America. The female's body is 14–16 millimeters in length and is black, often with an hourglass shaped red mark on the lower abdomen. The male of the species is around half this size and generally a tan color with lighter striping on the abdomen. The population was previously described as a subspecies of Latrodectus mactans and it is closely related to the northern species Latrodectus variolus. The species, as with others of the genus, build irregular webs, the strands of which are very strong.
The female's consumption of the male after courtship, a cannabilistic and suicidal behaviour observed in Latrodectus hasseltii (Australia's redback), is rare in this species. Male Western widows may breed several times during its relatively shorter lifespan