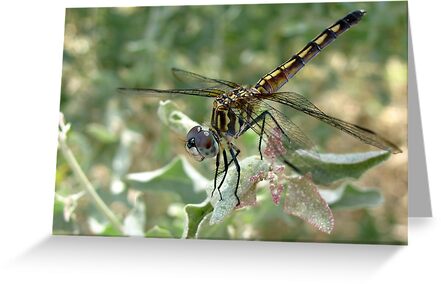 7-15-10

Taken in Tucson, Arizona @ Sweetwater Wetlands using a Canon Powershot SX10IS
Blue Dashers (Skimmer Family)
Blue Dash is abundant in the East, less so in the Southwest where standing water is limited. This dainty, pale blue species is a familiar inhabitant of still waters surrounded by reeds or cattails. Watch for it at wildlife-refuge ponds, the edges of lakes created for water treatment or fishing and even back-yard lily ponds.
Territorial males take prominent perches, often stems bent over the water, from which they frequently dart out to chase of intruders.
The snow white face of this species distinguishes it from the similar Western Pond-hawk with which its frequently occurs: note: the Pond-hawk's bright green face and habit of perching on the ground.