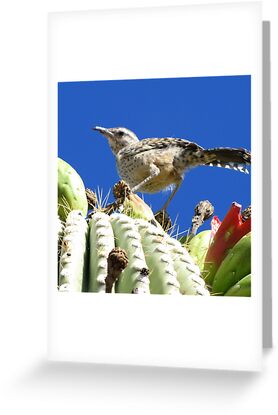 Taken in Marana, Az with Canon Powershot SX10IS
This large wren is a permanent resident of arid regions, particularly cactus deserts and dry hill country. It is often seen perched atop a cactus or other vegetation, delivering its unusual song or attending to its large stick nest.
VOICE Song is a rapid series of guttural _ga_notes, sounding like a combustion engine that won't "turn over". Calls include low, growling, corvid like kraw,krot, and kok notes, sometimes in series. SONGS AND CALLS
Cactus Wren is the Official state bird of Arizona!
INTERESTING FACTS
The Cactus Wren builds many nests as decoys but actually lives in just one of them. Additional nests built by males may be used to rear second and even third broods.
Nests are built high in thorny trees and shrubs with only a narrow side entrance. In this way the birds take advantage of the plants' natural defenses for their own protection.
It has been the state bird of Arizona since 1931.
A group of wrens has many collective nouns, including a "chime", "flight", "flock", and "herd" of wrens