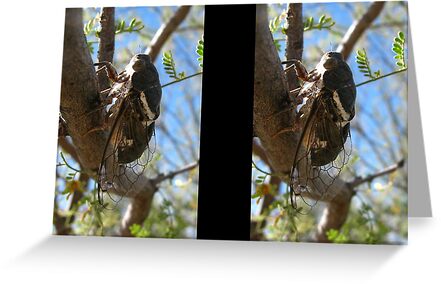 6-25-10

Taken in Tucson, AZ using a Canon Powershot SX110IS (yep I like it better for macros)
A familiar Summer sound is the buzzing or whining "song", produced by vibrating membranes at the base of the abdomen, of male cicadas. usually sitting in a Palo Verde tree singing during that hottest times of the day to attract a mate. If captured the cicada will let a shrill scream in hopes that it will be released by its capture.
The Cicada is the only known to sweat, having evolved a series of tubes internally to release moisture around them, acting like swamp coolers. they replenish this liquid by taping into the xylem of the tree. Only the desert species have evolved this adaption.
Cicadas are benign to humans in normal circumstances and do not bite or sting in a true sense, but may in fact "sting" after mistaking a person's arm or other part of their body as a tree or plant limb and attempt to feed. Cicadas have a long proboscis under their head that they use for feeding on tree sap, and if they attempt to inject it into a person's body it can be painful, but is in no other way harmful. This "sting" is not a defensive reaction and should not be mistaken for aggression, it is extremely uncommon, and it usually only happens when they are allowed to rest on a person's body for extended periods of time.