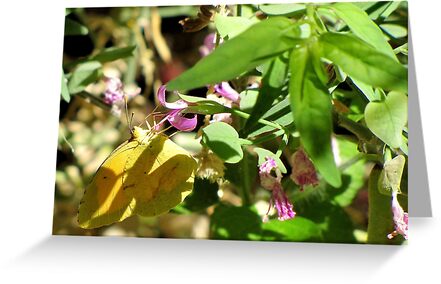 Taken in Tucson, AZ using a Canon Powershot SX10IS
A medium size, cheddar cheese-colored butter-fly spotted in a city garden is probably a sleepy orange. It perches with wings closed, revealing a pale orange underside laced with reddish lines.
Sleepy orange underside adults feed avidly at flowers, especially red ones such as salvia and cardinal flower.
On sweltering summer days, they form puddle parties in foothill canyons. They can tolerate freezes and fly throughout desert winters. The tailed orange is similar its veins are outlined in black and it lacks most of the wide wing borders. It occurs in Southern Arizona and New Mexico but cannot survive winters there, requiring Mexican stock to replenish its population each season.
Host Plants Senna
Flight Most common in the late summer, year-round in the deserts.