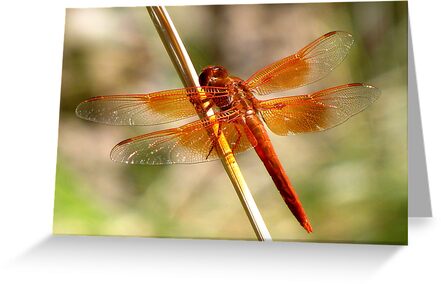 7th Place in the First Dragon of 2010 Challenge
Taken in Tucson, Arizona at Silverbell Lake using a Canon Powershot SX10IS
A large brilliant flash of orange streaking across a southwestern pond will almost certainly be a flame skimmer. Territorial males have a little tolerance for each other, and often two or even three participate in acrobatic chases, driving intruders from favored perches or away from a prospective mate.
The flame skimmer is widespread in the western U.S., ranging from sea level to at least 6,000 feet elevation. One of our most familiar species, it may be encountered at streams, ponds, lake edges, desert oasis, marshes, and (often) backyard ornamental pools.
males have a carrot-orange body, and that colors continues uniformly about halfway out the wing. Females are browner, and the orange in the wings is restricted to the forward edges, extending nearly to the wing tip.
Flight Season Feb. 9 – Dec. 15