6-20-10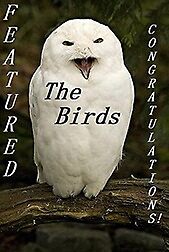 Taken in Tucson, Arizona using a Canon Powershot SX10IS
This large, conspicuous dove is common in southwestern deserts, brush-lands, canyons, and foothills. It forages in trees and cacti for fruit and eats at feeders.
A desert inhabitant, will fly more than 20 miles in order to reach a source of water – whether a natural source, such as a stream, or a man-made source.
In flight courtship display consist of males clapping his wings as he rises, then desceding on stiff wings.
VOICE A memorable rrro-hoo-hooo-hooo (who cooks for you) on one pitch; also syncopated short coo notes followed by longer hoos alternately rising and falling.
INTERESTING FACTS
Although the White-winged Dove is most commonly found in Arizona and the southwest, its range is expanding nation-wide and into parts of Canada.
In Florida breeding occurs only in introduced populations.
A group of doves has many collective nouns, including a "bevy", "cote", "dole", "dule", and "flight" of doves.