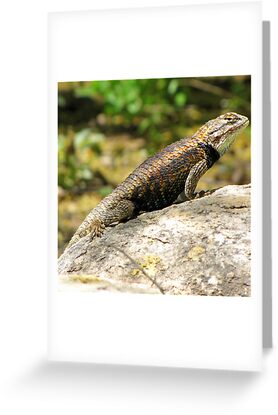 *Cover image for Reptiles of the Desert Calendar!

Calendar
6-8-10

Taken Tucson, Arizona using a Canon Powershot SX10IS
The stout desert spiny lizards are notoriously bold and feisty – researchers who handle them often report painful bites. Spiny lizards aggressively defend territories and will chase off intruders, even putting on a show towards humans ( as you can see in the picture here).
Smaller adversaries such as other lizards, if unlucky, might be eaten. Spiny's are omnivorous eating flowers, fruits and leaves as well.
They live in a a wide range of desert habitats, as well as along washes and rivers. Often they will take shelter in the large stick-nests of packrats.