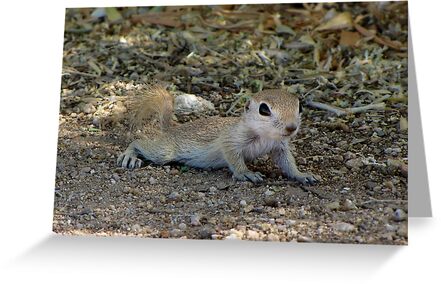 6th Place in the Ground Squirrels & Prairie Dogs

Taken in Tucson, Arizona using a Canon Powershot Sx10IS
Round-tailed Ground Squirrel
This small ground squirrel received its name for its pencil-like tail. Its cinnamon-tan coat lacks the contrasting spots and strips sported by others of its family.
They are often associated with creosote bush flats, where its tawny coat blends well with the brown clay soil. Unlike its relatives, it does not climb to a vantage point to scout for danger (though they do climb short heights for food). Instead, it will run a short distance, then settle motionless on the ground to survey the situation. If something arouses its curiosity, the animal will stand high on its high legs to see over any low obstacle, using its tail as a third leg of a tripod for balance.
This squirrel dines primarily on green vegetation of the desert floor, Readily climbing shrubs and small trees, it often ventures shakily to the end of the branch to reach a particularly tempting bud or tip. Its diurnal activity pattern includes a fast-disappearing custom – the afternoon siesta. By 10a.m., with a full tummy, it retires from the heat of the surface to the coolness of the burrow. by 3p.m., as the heat begins dissipating, the round-tail re-emerges from its home until sundown.