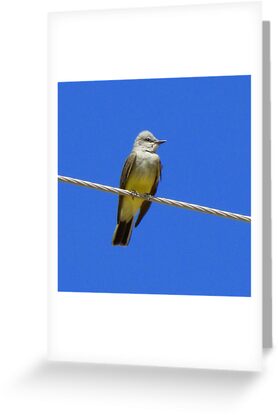 Marana, Az
Canon Powershot SX10IS
Western Kingbird
Western Kingbird nest from the Great Plains westward, in any open habitat where there are few trees available for nesting. Like all Tyrannus, it is pugilist, attacking birds that dare enter its territory, diving at and even riding the backs of vultures and hawks. this species is often observed on the East Coast in fall.
VOICE SONG a nasal, sputtering series that rises in inflection, speed, and pitch, then falls quickly: prip pp prreep pp PREEpoopop. CALLS similarly clipped spik, pik, and kit sounds.
INTERESTING FACTS
The Western Kingbird has benefited from the cutting of forests. Alfalfa and livestock pastures provide a plentiful diet of insects.
The male has an impressive courtship display in which he twists and turns to about 60 feet in the air at which point he stalls, and then tumbles, flips, and twists as he falls toward the ground.
They catch insects on the wing, often leaving its perch and chasing flying insects for 40 to 60 feet.
A group of kingbirds are collectively known as a "coronation", "court", and "tyranny" of kingbirds.