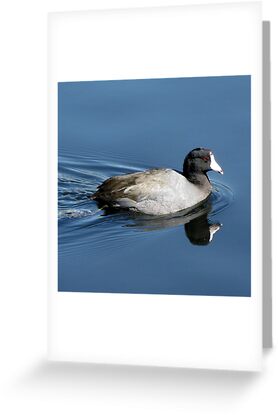 Taken at"Arizona-Sonoran Desert Museum":http://www.desertmuseum.org/about/
, Tucson, Arizona with a Canon Powershot SX10IS
American Coot is hardly rail-like in behavior: it regularly swims in the open on freshwater ponds and marshes, diving for aquatic vegetation and invertebrates. Coots routinely walk onto pond-side suburban lawns to pick up vegetation and insects; their large, lobed toes are well suited to both water and land,
the similar Eurasian Coot is a vagrant to Canada and Alaska.
VOICE Single grunting, trumoeting, and clucking notes, often with a nasal or grating quality; male gives higher calls, female lower, more guttural calls.
►Dark rusty frontal shield
►Whitish bill has rusty sub-terminal band.
►Slaty gray, head darker than body.
INTERESTING FACTS
Even though the American Coot swims like a duck, they do not have webbed feet, the toes have lobes on the sides of each segment.
Coots are kleptoparasitic, which means that when they don't feel like hunting for their own food, they'll steal their meal from other birds.
They are nicknamed "marsh hen" or "mud hen" because of they way their heads bob when they walk or swim.
A group of coots has many collective nouns, including a "codgery", "commotion", "fleet", "shoal", and "swarm" of coots.