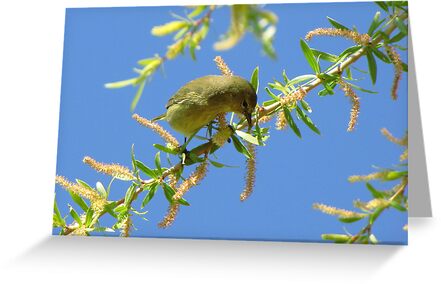 Sweetwater Wetlands
Tucson, AZ
2010 with my Canon Powershot SX10IS
Orange-crowned Warbler
This hardy little warbler is widespread in the North and West but scarce in the East. it inhabits brushy undergrowth in a great variety of habitats, from boreal forests to chaparral, winters in thickets and tangles across the southern states into Mexico, farther North than most warblers.
This species is confused with Tennessee and Yellow warbler though it tends to forage lower and more deliberately than those other species.
Orange-crowns vary from rich greenish yellow with blurry streaks to strikingly pale overall. Individuals differ according to age, sex, and subspecies.
VOICE Song a listless, choppy trill, trailing off at end (similar to Yellow-rumped Warbler) Call a distinctive, sharp stik
Identification in-distinctive head pattern with dark eye line. Yellow under tail coverts, thinner decurved bill than Tennessee Warbler. Yellow throat and broken eye ring contrast with dusky crown. Usually dusky sides and greenish cast above.