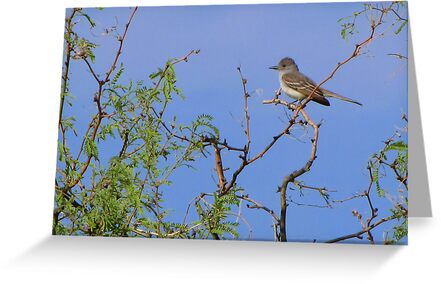 4-20-10 in Marana, Az
Canon Powershot SX10IS
Ash-throated Flycatcher
Like Brown-crested Flycatcher, Ash-throated Flycatcher breeds in open, dry habitats, but it is more widespread. In late Autumn a few turn up in eastern states, where they are distinguished from the larger Great Crested Flycatcher by their smaller bill and paler plumage.
Hindcrown peaks when alert. Rufous primary edges; white secondary edges. Narrow pale margins to tertials.
VOICE SONG a fussy series of burry, kingbird-like ki-breer, krerr, and kibrik notes. CALLS a quick prik and prp
The Ash-throated Flycatcher frequently uses man-made structures for nesting. The use of artificial structures may have offset the loss of natural nest sites by development, and may be responsible for an increase in numbers.
Although it has become a hole-breeder, it still builds a nest and has streaked, camouflaged eggs like its open-nesting ancestors.
It is a rare, but regular vagrant to the East Coast. Individuals turn up nearly every year, and have been found in all coastal states and provinces.
A group of flycatchers has many collective nouns, including an "outfield", "swatting", "zapper", and "zipper" of flycatchers.