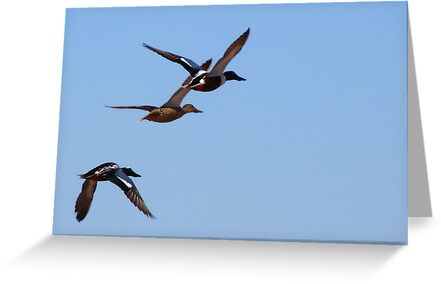 FEATURED in A Vision of Flight 4-25-10
Sweetwater Wetlands
Tucson Arizona, March 2010
This (dabbling) duck breeds mostly in the interior West,nesting on well-vegetated, shallow freshwater lakes with muddy edges. They winter in freshwater and some brackish habitats in the southern and coastal U.S. and Mexico.
To eat, they sift mud and water with their bill, straining out tiny invertebrates and plant matter.
The Shoveler is the most territorial of all North American dabblers.
Voice Males sound like an air pump. A nasal thk or thk-thk. Females: a gabbling quack, often doubled, rougher, and deeper than other teal.
Appearance: Males; green head, white breast, and rusty sides. Females; similar to female teal, but with larger bill, more contrasting plumage.
The Northern Shoveler was first described in 1758 by Carolus Linnaeus, Swedish botanist, physician and zoologist.
They are often referred to as the "Spoonbill" or "Spoony" because of their unique spatulate shaped bill, which has about 110 fine projections (called lamellae) along the edges, for straining food from water.
Socially, they occasionally work together in groups while feeding, rotating like a pin-wheel, stirring up the surface water and skimming it for food particles.
A group of ducks has many collective nouns, including a "brace", "flush", "paddling", "raft", and "team" of ducks.