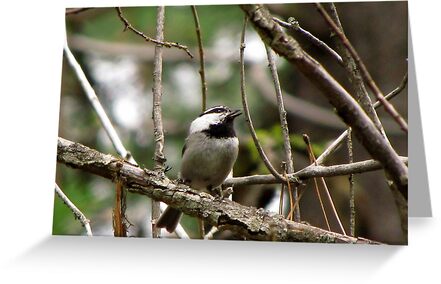 Bend Oregon during a visit with my sister Canon Powershot SX10IS
Mountain Chickadee inhabits mostly montane coniferous forests; like other chickadees it often joins mixed foraging flocks in the non-breeding season.
Although its populations are somewhat irruptive, as with Black-capped Chickadee, movements are mostly altitudinal; few birds have been recorded foar out of range, but some do move into the western Great Plains after breeding.
VOICE SONG a plaintive _see-bee-, similar to Black-capped but often with additional bee notes on same pitch as first bee note. CALLS also similar.
The Mountain Chickadee is one of the most common birds of the Western montane coniferous forests.
The nest cup of a Mountain Chickadee is molded in fur and then plugged with looser fur. The unincubated eggs are covered with the fur plug while the female is not in the nest.
The species name honors naturalist William Gambel.
A group of chickadees are collectively known as a "banditry" and a "dissimulation" of chickadee