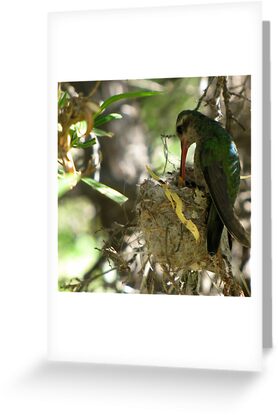 Arizona-Sonoran Desert Museum
Tucson,AZ 2010
Canon Powershot SX10IS
Broad-billed
Broad-billed hummingbird reaches the northern limit of its breeding range in riparian canyons and foothills of southeastern Arizona and southwestern New Mexico; it is relatively common up to about 5,000' (1,500m) in varied habitats, from mesquite lowlands through higher-elevations stands of oaks, sycamores, and cottonwoods. Breeding birds are observed mostly from March to September; a few winter in the U.S.
VOICE Call a rattling tsi-tit, similar to Ruby-crowned Kinglet.
The intestine of a Broad-billed Hummingbird is hair thin and about two inches in length.
These birds can consume up to 1.7 times their weight in nectar each day.
At night, when they are unable to feed, they lower their body temperature and slow their metabolism, thus decreasing their need for food.
A group of hummingbirds has many collective nouns, including a "bouquet", "glittering", "hover", "shimmer", and "tune" of hummingbirds.