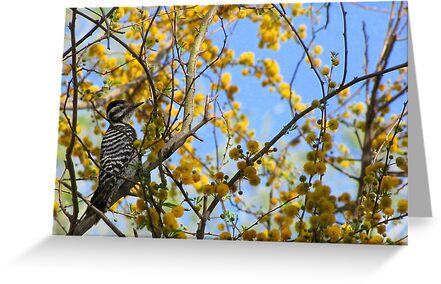 6th Place in the Out On A Limb Challenge
Taken at Sweetwater Wetlands, Tucson, Arizona with a Canon Powershot SX10 IS
Taken at Sweetwater Wetlands, Tucson,AZ 2010
This widespread, adaptable woodpecker is associated with lowland pinyon-juniper woods, pine forsets, riparian cottonwoods, and deserts of the southwest. Like other small woodpeckers it often forages by gleaning prey from crevices in bark rather than excavating pits or peeling bark.
Interesting Fact; They eat cactus fruit, as well as the gilded flicker and gila woodpecker.
VOICE is a short, sharp pik or chip, similar to the Downy Woodpecker but lower and richer.
---