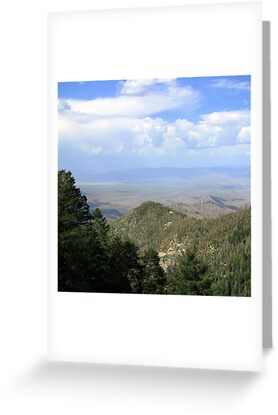 Kimberly P-Chadwick's Photography FB Page
San Manuel viewed from Mt Lemmon (2008)
Canon Powershot sx100is
Mount Lemmon is in the Santa Catalina Mountains located in the Coronado National Forest north of Tucson, Arizona, United States. It is 9,157 feet above sea-level, and receives approximately 180 inches of snow annually. Mount Lemmon was named in honor of botanist Sarah Lemmon, who trekked to the top of the mountain with Native American guides by mule and foot in 1881.
---
San Manuel is a census-designated place (CDP) in Pinal County, Arizona, United States. The population was 4,375 at the 2000 census.
San Manuel was built in 1953 as a company town to serve the then-new San Manuel copper mine, mill and smelter complex. The mine and smelter were permanently closed in 2003.
Nearby towns are Oracle, Arizona and Mammoth, Arizona. Both are within ten miles (16 km) of San Manuel and make up the tri-community area.