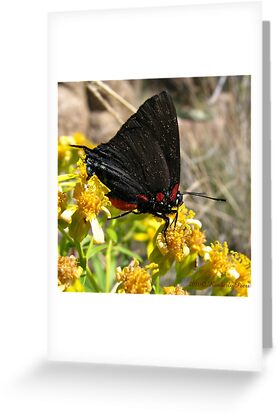 Taken in Tucson, Arizona with my Canon Powershot SX10IS 3-21-2010 while on a browse at Arizona-Sonoran Desert Museum
Cover image for the Butterflies of the Desert Calendar

6-20-10

The iridescent turquoise color of this species must be seen to be believed. However, since hairstreaks generally perch with their wings together, the glint of its blue can only be seen when it flies. One usually sees it as a triangular-shaped, mostly black butterfly with two long, twisted, thread-like tails on its hind wings.
Great blues favor tall flowering shrubs or vines and often nectar upon seep willow. They are a solitary species, quite fond of damp spots. In the afternoon, males frequent treetops on the summits of hills. Even if disturbed, the great blue will often return repeatedly to its treetop territory.
Larval foodplant: Mistletoes growing on oak, ash cottonwood, juniper, mesquite, etc.