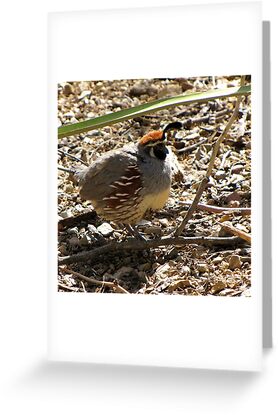 Taken in Marana, Az with my Canon SX10IS March 2010
Gambel's Quail is a widespread resident in canyons and deserts, especially in the southern Great Basin an Sonoran Desert, It has also adapted to suburban areas and sometimes visits feeders. Gambel's is more arboreal than bobwhites, feeding on fruit and seeds in trees and large cacti and roosting in bushes or trees. Its populations decrease notably during droughts.
VOICE Male sings a repeated hup WAAY ha ha. Nasal calls include and inquisitive whaaoo, a sharp u-wik, and a collared-dove-like hehh.