FEATURED 7-20-10 in the Only Owls Group!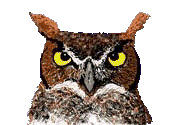 Taken at Arizona-Sonoran Desert Museum
during Raptor Free Flight Demonstrations in Tucson,Az
---
A large powerful owl, resident in all habitats from the tundra edges to deserts and in to tropical America, Great Horned fills the ecological niches occupied during the day by Red-tailed Hawk.
Emerging at dusk, it surveys an open area from a favorite perch for just about any prey including skunks and opossums, snakes and scorpions. Even other owls and birds as large as grouse and American Bittern!. It can take prey weighting up to 3x its own body weight!
In flight this owl recalls buteo hawk, but it has a more compact wing shape and robust body.
VOICE Familiar duet of paired adults consist of low hooting, accelerating at first, then closing with 2 longer hoos. Smaller males