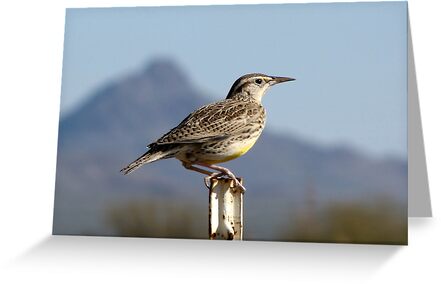 Cover for the Songbirds of the Southwest vol 2
Calendar

123 views as of 9-4-10

Taken in Marana, Az with Canon Powershot SX10Is 2009
Western Meadowlark is generally found in drier habitats with shorter grass than the Eastern. it is more widspread, nesting well into the Canadian prairies, with vagrants recorded as far north as Alaska and Siberia. meadowlarks are best distinguished by the males call. VOICE Song a variable set of whistled phrases; usually begins with 1 or 2 sweet, clear notes and ends with more complex, contorted, slurred whistles ( like a slide whistle). Call is a flat tuk, never given by the Eastern
IDENTIFICATION Bill usually appears longer, more decurved than the Eastern. Like the Eastern but has paler flanks with shorter streaks, paler head and upperparts, less contrast in head pattern.
---
Eastern Meadowlark inhabits open areas such as meadows, prairies, farm fields, salt marshes, and grasslands. It is most often seen singing from fencepost or searching for insects and seeds on the ground.
VOICE Song is a variable low, whistled tiooooo,tiierrrrrr, second phrase lower, descending and meloncholy. Call is a short, buzzy dzzzit_, quite different from the Western Meadowlark. SONGS AND CALLSMeadowlark.aspx
IDENTIFICATION Like Western but more richly rufous-tinged above (except Lilian's). Strong contrast in head pattern. Yellow throat seperated from streaked auriculars by white malar.