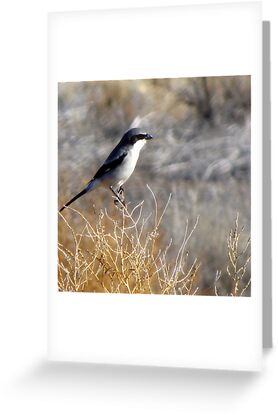 Whitewater Draw Wildlife Area, 2010
Canon Powershot sx10is
Loggerhead Shrike
This open-country bird is declining over most of its range. Males impales prey – large insects and small reptiles, amphibians, rodents, and passerines – on barbed wire and thorns to cache food and mark territories (indicating their fitness to potential mates).
With their sharp vision, Loggerheads can spot prey 70 yards away and can carry, using their bills, more than their own weight in flight.
Found in open country, lowland plains, grassy pastures, or hillsides with short grass and low shrubs and trees. Builds cup-like nest in thick shrubs or low trees.
VOICE Song a series of harsh paired phrases repeated at precise intervals. Calls include harsh fusses.