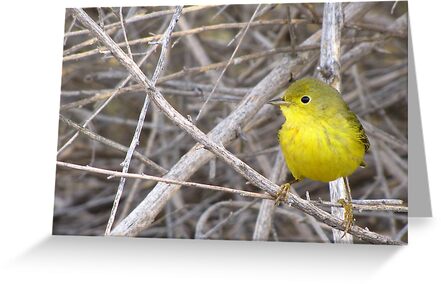 Sweetwater Wetlands
Tucson, Az February 2010
Canon Powershot SX10IS
Yellow Warbler
In riparian areas with abundant willows, from stunted tundra woods to the desert Southwest, Yellow Warbler's song seems to ring out from every other tree. This species also favors brushy fields – even clear cuts, strip mines, and abandoned orchards.
They frequently pump their tail and responds vigorously to pishing. Forages in tree, shrubs, and bushes, gleaning insects and larvae from branches and leaves. Will sometimes spot flying insects from perch and chase them down.
Nests in forks of trees or bushes at eye level or a little higher.
Identification Rich overall, brightest below. Reddish streaking below (absent or very faint in adult female). Coverts and tertials have contrasting pale edges ( unlike orange-crowned).
Song is a rapid, variable sweet sweet I'm so sweet Call is an emphatic down slurred tchip.