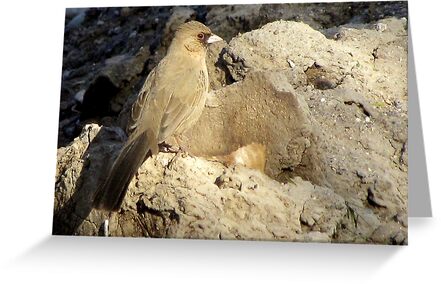 Sweetwater Wetlands
Tucson, AZ 2010
Canon Pwershot sx10is
Abert's Towhee
This scarce species is found in thickets, mesquite, and stands of willows and cottonwoods along water. Frequents desert woodlands and stream-side thickets at lower elevations than the Canyon Towhee. Also found in suburban yards and orchards.
Abert's Towhee forages the ground by raking it with both feet to expose insects and seeds.
Staying in its breeding range year round, it is monogamous and usually mates for life. females lay three or four pale blue-green eggs in a cup nest close to the ground in a bush or tree.
VOICE Song a loud set of high,sweet,staccato tones on much lower pitch. Calls include a high seeeep and notes like component of song or sharp peek notes