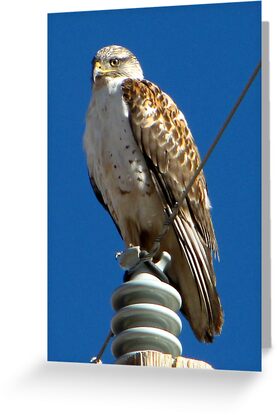 Taken in Wilcox, AZ Feb 2010
The largest N. American buteo, they have an almost aquiline presence; large0billed and heavy headed, wide-bodied and full-winged, it might be mistaken for an eagle, especially in the rarer dark morph.
This species if restricted to dry open habitats, especially deserts and grasslands, where it hunts small mammals from the air or on a low perch. More than most buteos, ferruginous Hawks spend a lot of time on the ground.
This species is distinctive in all plumages, showing very white remiges (with dusky tips)and a pale rectrices from below.
VOICE a very high, thin, piping wheeee-errrrr, descending, with a somewhat plaintive quality.