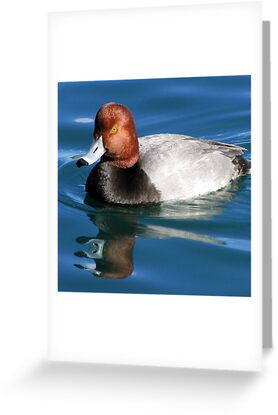 1 Card sold! Thank you for your purchase!
Cover image for the Ducks of Southern Arizona Calendar

Kennedy Lake
Tucson, AZ
Canon Powershot sx10is
Redhead Duck
Redhead breeds in open country from Alaska and central Canada into the northern Great Plains, Great Basin, and similar settings, and winters mostly on brackish water tidal water and freshwater rivers and lakes. Like several other duck species, Redhead cam be a brood parasite, laying its eggs in the nests of other Redheads ro other species, even those of gulls, coots, or rails.
VOICE Male: in display a cheerful rrruuuurrrr, rising then falling pitch. Female" a quite, guttural grunt

1-20-11
8th Place in the Your Best Duck Picture Challenge!!