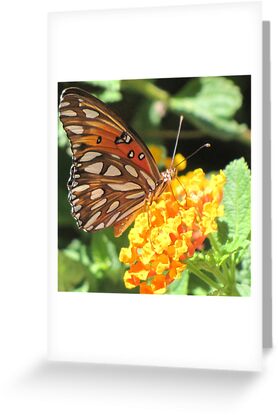 Marana, Az
Canon Powershot sx10is
Gulf Fritillary
This is a fairly large commonly noticed species with a strong flight that sometimes carries it far from its normal haunts. Its spectacular underside of large, silver spots on a tan and red-orange background can bring a gasp to the uninitiated.
The guf fritillary belongs to a group of brush-foot butterflies known as long-wings. Female longwings have "stink clubs" on either of their abdomen, which disperse pheromones to attract males. The male transfers hos own chemical onto these stink clubs to repel other males and maximize his own offspring's chance of survival.
Host Plants Ornamental passionvines in city gardens and native in canyons.
Flight Often year-round